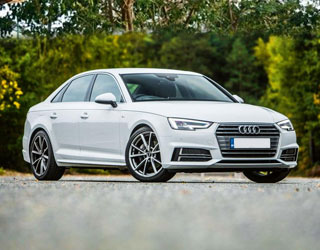 Yellow Plate Taxi provide Audi cars on rent for luxury travel in Punjab. Book Audi A4, Audi A6 luxury fully automatic in Amritsar
Audi A4
The Audi A4 is packed full of fun with a turbocharged four-cylinder engine, luxurious interior and gorgeous style. This premium Audi sedan is the ideal rental car for thrilling vacations, business trips and for showing off.
Seats-5
Doors-4
Transmission-Automatic
Class-Compact Car
Air Conditioning-Yes
Luggage-2 Suitcases / 2 Bags
Audi A6
Make a real impression with this stunning model from Audi! Rent an Audi A6 with Yellow Plate Taxi rent a car to experience true sophistication and performance for any business trip or vacation.
Seats-5
Doors-4
Transmission-Automatic
Class-Mid-size luxury / Executive car
Body Type-4-door sedan
Air Conditioning-Yes
Luggage-2 Suitcases / 2 Bags